The Master Water UltraPro Series
Membrane technologies have gained recognition in water treatment as the technology of the future.  These economically efficient and environment-friendly purification systems remove a variety of impurities without using chemicals.  Ultrafiltration membranes have established a position in the drinking water sector because the filter water to such an extent that it is virtually free of solids.  Master Water's UltraPro system protects your family with the finest membrane technology available.
Safe Water for Your Family's Health
If you are concerned about microbiological organisms and impurities in your household water that can be detrimental to your family's health, this system can give you peace of mind.  UltraPro membrane technology aids in reduction of bacteria, cysts, and virus.
Ultrapro Systems are certified to NSF/ANSI 61.
Independent third party lab tested for 6 log bacteria and 4 log cyst reduction
The Quality is Clear
Superior water should be colorless and odorless.  UltraPro filters water to a rate of 0.2 micron absolute, removing suspended particles that make water cloudy, discolored and malodorous.
Filters Out Natural Organics and Turbidity.
Colloidal Clay (gray water and/or mica water)
Tannin (dark yellow water, tea colored water)
Organic Iron (pink/orange water)

UltraPro Features
Each modular unit contains up to 5 1/2 miles of hollow fiber lumens an up to 194 square feet of filtration surface
Able to process up to 10.5 gallons per minute
Daily backwashing for only 5 minutes
All units come with fully automatic and adjustable cleaning cycles
All systems are equipped with an Autoflush for easy cleaning
Low waste-water discharge of 1-2% when cleaning
Modular Design for varied flow service
Available in single and multi tank design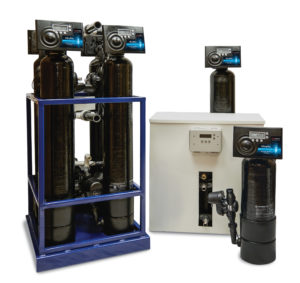 UltraPro Benefits
No Chemicals Needed
Suitable as a component in a multi-bar system or as a microbial toolbox item
Minimized risk of clogging for outside/in flow, membrane surface can be easily cleaned with water
Water is treated even when the power goes out
Uses existing water pressure to operate
No additional pump or motor needed
Master UltraPro Series Brochure
Master UltraPro Series Application Guide